Utah is a wonderful state. With almost 85,000 square miles of land, its natural beauty has been a travel destination for many years and will be for many more to come. While I could go on and on about the attractions in the state that's the home of Nielson RV, I'll focus on a popular RVers destination, St. George, Utah. In 2009, TripAdvisor named St. George as the #1 emerging destination for travelers. That's good news for us RVers.
Located about 300 miles south of Salt Lake City and 120 miles east of Las Vegas, St. George is right on the border of Arizona and Nevada. Lucky for us, it's just a hop, skip and a jump from our headquarters in Hurricane! St. George is a nature-lovers dream, with lakes, mountains and plenty of natural rock formations to help you appreciate the beauty of this great state.
Snow Canyon State Park
7,400 acres of amazing natural beauty. Located just outside of St. George, Snow Canyon State Park offers plenty of reasons to take your RV and spend some time surrounded by the canyons. This park offers opportunities for outdoor enthusiasts of all ages. Activities include hiking, nature studies, wildlife viewing, photography, camping, ranger talks and junior ranger programs. There are more than 38 miles of hiking trails, a three-mile paved walking/biking trail and over 15 miles of equestrian trails. At just $20 per night for full hookups, you can't go wrong.
Sand Hollow State Park
This 20,000 acre state park is a favorite among ATV enthusiasts. If you can't leave home without your 4-wheeler, this is the place to be with almost 15,000 acres of sand dunes! If you don't have a way to get your ATV there yet, take a look at our toy hauler inventory and pick one out. Of course you can always rent an ATV if you don't have one. How often can you spend a day on sandy beaches, a warm-water reservoir, and sand dunes perfect for your favorite hobbies? The fact that this park is open year round makes Sand Hollow State Park an even more attractive destination as winter often forces parks to close for the entire season.
Zion National Park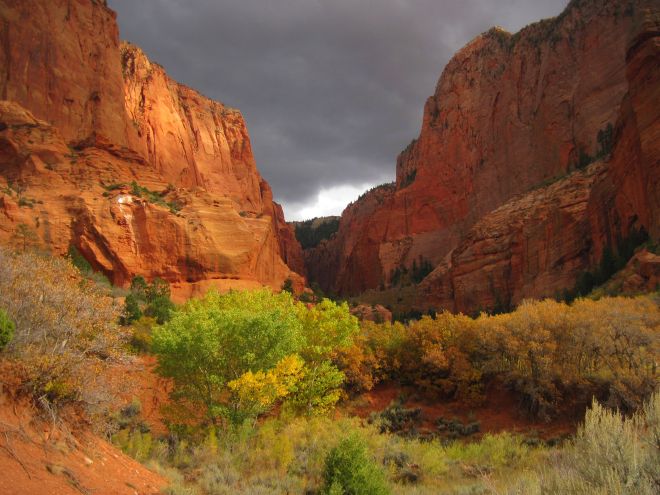 Many visitors make St. George their home base for visiting Zion National Park. Only 43 miles from St. George, Zion National Park provides a stunning scenic rock formations and awe-inspiring ecological diversity. For the bird-lover in your family, they'll be happy to know that Zion is home to over 200 bird species. Backpacking, bicycling, canyoneering and climbing are just a few of the activities that you can take part in when you visit this wonderful national park. Up in the far northwest section of the park is the Kolob Canyons, a stunning display of peaks and 2,000 foot cliff walls. There's something for everyone here.
Golfer's Paradise
St. George has 12 courses within 15 minutes of each other. For the golfer in your party, this is a perfect vacation spot to spend some quality time with your family and with your clubs. The moderate climate, with high temperatures in the 55-65 range during the winter, makes these golf courses a very popular outing with professional and amateurs alike.
Have you ever been to St. George? What did you think of it? Share with us on Facebook or Google+.